_

_

Anthony is one of the most loving and outgoing people I know. With many happy go lucky people like Anthony, always looking for a reason to be carefree with little to no reservation for that joy is second nature. One of the most misleading things about being a joyful person is that the bliss can be taken for weakness.

We have all heard of the saying "Don't take my kindness for weakness". Well, I feel that this piece manifests just that.
Powered by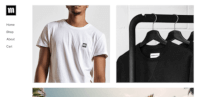 Create your own unique website with customizable templates.